Recently the company offered a Centennial Edition of their famous miniature telegraph key and sounder. Additional product re-issues are also being considered.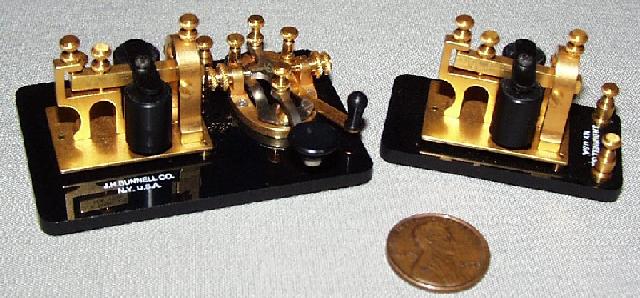 If you would like further information or wish to be added to Bunnell's mailing list please mail or fax your request and we will be happy to oblige. Mention you saw our Web Page and receive a 5% discount on your first order.
J.H. Bunnell & Company is a division of MNJ Industrials.
Phone: (631) 360-1967 Fax : (631) 361-2173
---
History of J.H. Bunnell & Company A Telegraph Office Other Telegraph Instruments
Learning to be a Telegrapher The Morse and Continental Codes The Lineman's Job and Equipment
Telegraphy Publications Telegraphy Links Purchase a Mini-Key Purchase a Navy Flame Proof key Home
J. H. Bunnell Co., 80 Locust Drive, Kings Park, NY 11754
631-360-1967 - FAX 631-361-2173 - jhbunnell@optonline.net